Simple booking of sea containers for Fast Moving Consumer Goods (FMCG)
Are you exporting Fast Moving Consumer Goods (FMCG) such as electronics, clothing, cosmetics, or other consumer products by ship? Booking containers can often be a significant logistical challenge. HelloContainer offers all the possibilities to make container booking for FMCG easier and completely within your control! Booking sea containers has never been so easy with HelloContainer!
Container Fast Moving Consumer Goods (FMCG)
HelloContainer gives you the freedom to easily arrange the transportation of FMCG on your own. Do you choose the best offer? Or the lowest CO2 emissions? Easily manage your export documents, book road transport, and track your shipment through the track & trace module. With HelloContainer, you can handle everything in one place and receive proactive updates on your shipments! Transparent, independent, and user-friendly. Try our demo for free and book containers for your consumer products.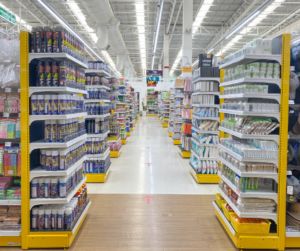 Try our demo!
Experience for yourself how easy it is to book containers for your Fast Moving Consumer Goods (FMCG). Try our demo for free and discover the many possibilities that HelloContainer offers for your export needs!
Want t know what others say about HelloContainer? Read the reviews on this page.
The 6 advantages of booking sea containers for (FMCG) with HelloContainer:
1. Compare and book in one platform
Compare and book containers for FMCG from various providers easily in one platform. The platform provides complete insight into container prices, sailing schedules, quality, and even the CO2 footprint of the transport.
2. Save on the booking process
Save on the booking process with HelloContainer. Easily compare container prices and choose the cheapest container. That saves you phone calls and a lot of paperwork.
3. Environmentally-friendly transport of consumer products
Climate also plays an important role in the FMCG industry. HelloContainer offers the option to choose transport with the lowest CO2 emissions. This way, you can easily book a container for your consumer products and contribute to climate-friendly export.
4. Independent
Book a container with the shipping company of your choice. HelloContainer presents it clearly and comprehensively for you.
5. User-friendly
Booking a container has never been easier. Besides booking a container for FMCG, you can also directly arrange the necessary customs documents, road transport, export declarations, EUR1s, or other documents.
6. Avoid mistakes
HelloContainer helps the FMCG industry book sea containers reliably and easily. It digitizes administrative tasks, such as creating quotes, export documents for the container, and communication with carriers and ports.
7. Container booking process for consumer products
At HelloContainer, you can easily and quickly manage the container booking process for your FMCG. Compare rates, find the cheapest container, and book directly online. With our advanced sea container tracking system, you can accurately track your shipment during global transport.
8. Flexible container transport
With our container transport platform, you have the flexibility to easily book road transport as well. This way, your consumer products are transported from door to door without hassle.
9. Costs of container transport for FMCG
Save on the costs of container transport for your FMCG with our transparent prices and competitive rates. Quickly and easily find out the cost of renting a sea container and book the cheapest one directly.